Client

National Geographic

Project

Fiennes: Return To The Nile (EMEA)
Egypt: With The World's Greatest Explorers (Americas)

Roles
Graphic Design
Campaign Implementation
Artwork and Production
KeyArt (Editing)

Team
Sasan Roohi (Creative Director & Line Manager)
Alexandra Arsene (Production Co-ordinator)

Deliverables
Print Design
Campaign (OOH)
Digital content
Signage

KeyArt Creative
MMMultiply (Design Studio)

Studio
Designed while working at FOX Networks Group (now, The Walt Disney Company)





Subject


During my time at National Geographic, I worked alongside the in-house Creative and Digital teams on a variety of marketing projects for Nat Geo TV campaigns and Nat Geo Wild seasonal promotion. Everything from Branded Content, Outdoor Advertising and Digital ads.

One of my key projects included developing the campaign creative for the launch of a new Documentary TV series, 'Fiennes: Return To The Nile'. The show stars cousins; explorer, Sir Ranulph Fiennes and actor, Joseph Fiennes on a trip of a lifetime as they journey the length of the River Nile, discovering a culture, an ancient civilisation, and – presumably – a little about each other along the way.

The show would screen under two monikers. Europe, Middle East and Africa (EMEA) used Fiennes: Return To The Nile and the Americas was titled Egypt: With The World's Greatest Explorers.

I helped push the Key-Art Creative (originally created by design studio, MMMultiply) to expanded use across Print (International Poster Campaign, Invites, Publication Ads), Large-Scale OOH and Web and Digital assets to full scope.

Sas (Creative Director) trusted me to help deliver this across the various communicational touchpoints, to a global audience.
Process
When I got given the original KeyArt to edit, I began looking at the skin details for both actors, the shadows, the highlights and backdrops making show colours were accurate and that the contrast was how Sas wanted for the final export. I was asked to come up with a few variations that could be approved by production.
Once this final artwork was approved for the portrait campaign material, I started working on the Landscape edits. This meant we had options for different formats, for Print, Vechicle and for Screen use.
The marketing department ended up chosing two different names for the individual regions. This included seperate air-time dates. I ended up implementing these changes across all assets ready for print production and online ads.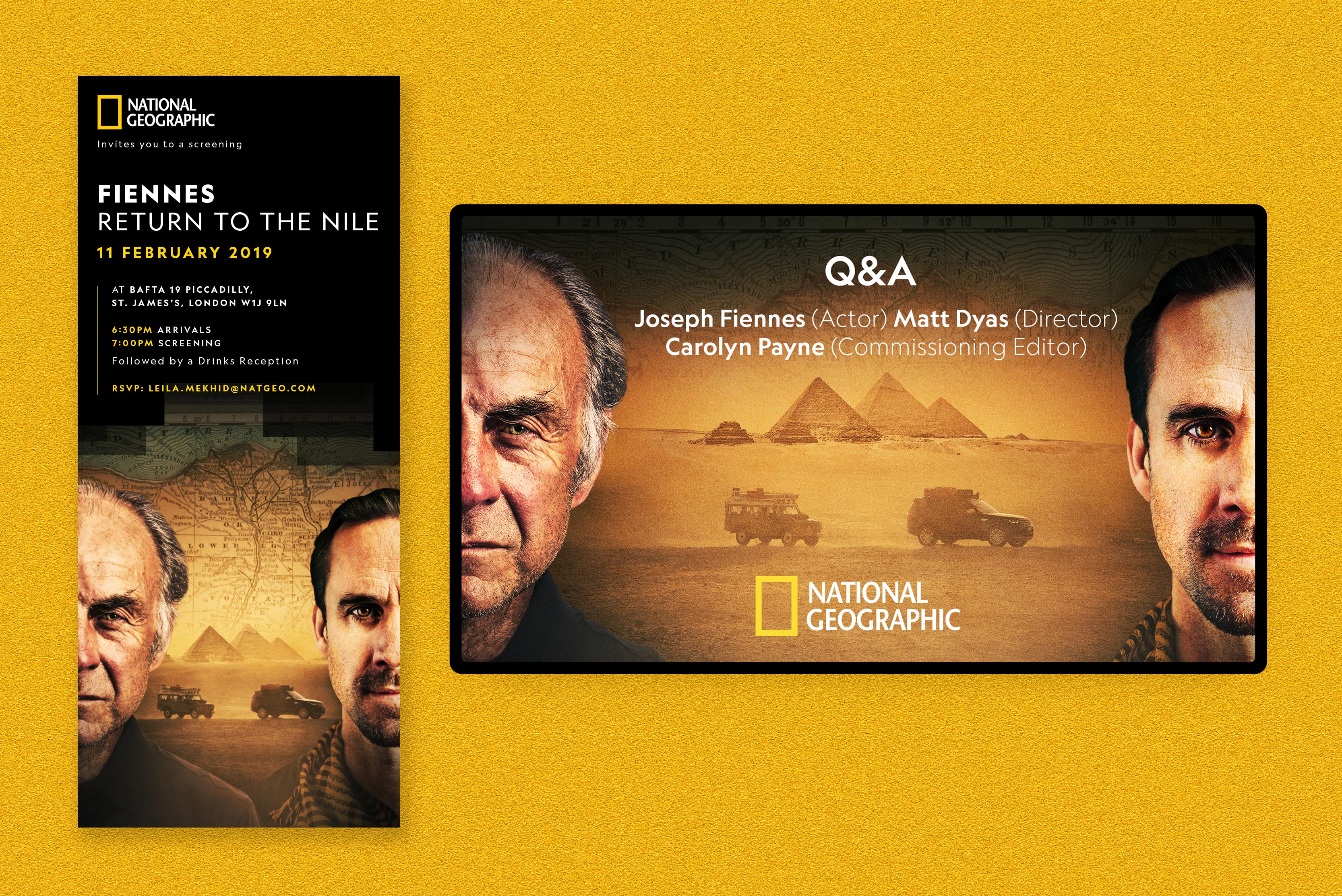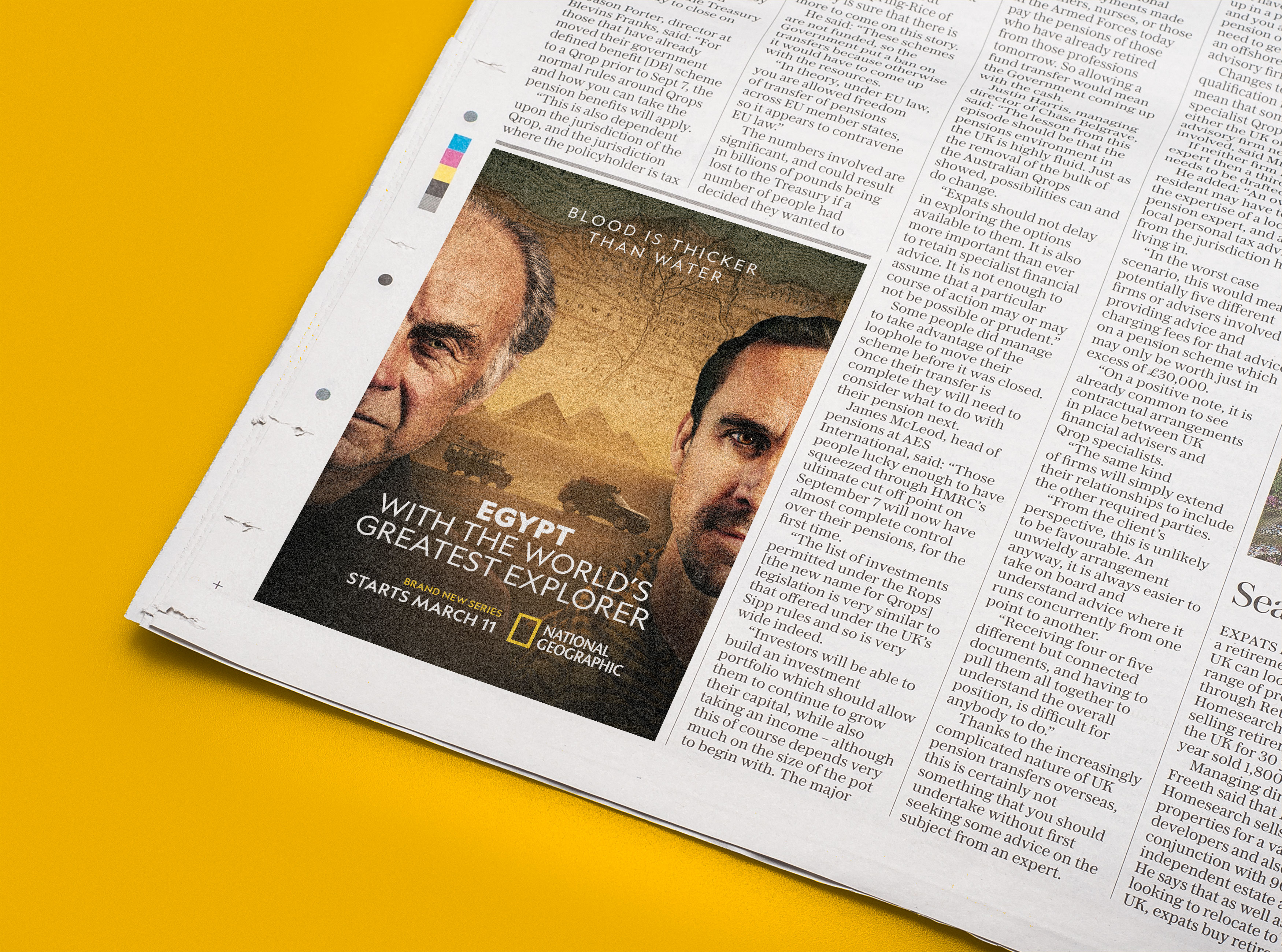 Result


A great campaign to work on. Rolling out the creative assets and seeing how it is displayed globally is always a nice feeling.

To be able to get an opportunity to work on projects that I have a real passion for, the subject matter, the content, the brand. I have always wanted to work with National Geographic. Sas and Alex made working together easy, fluid and seemless.
* A selection of the mock ups displayed here have been produced to show the campaign in use across different formats.