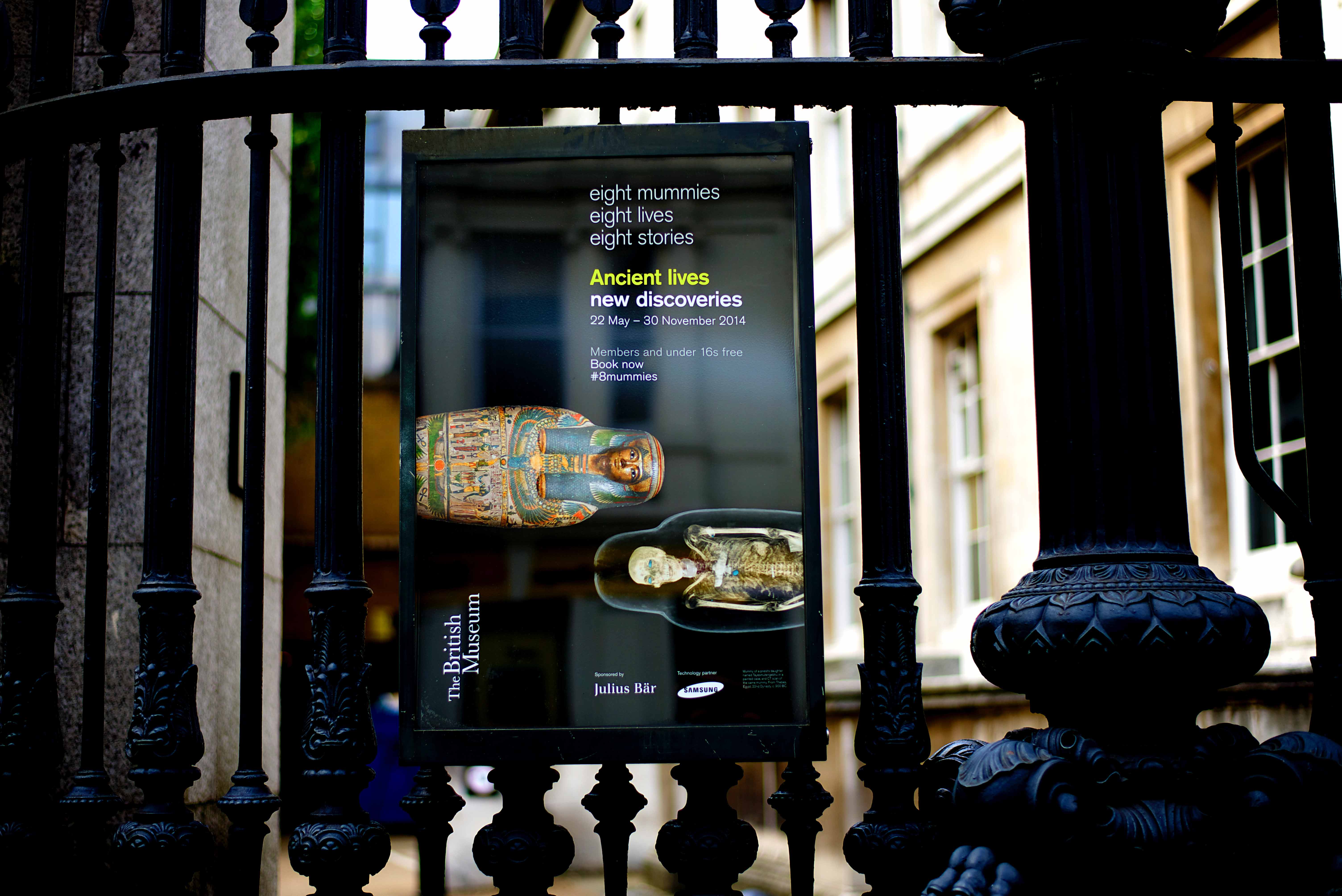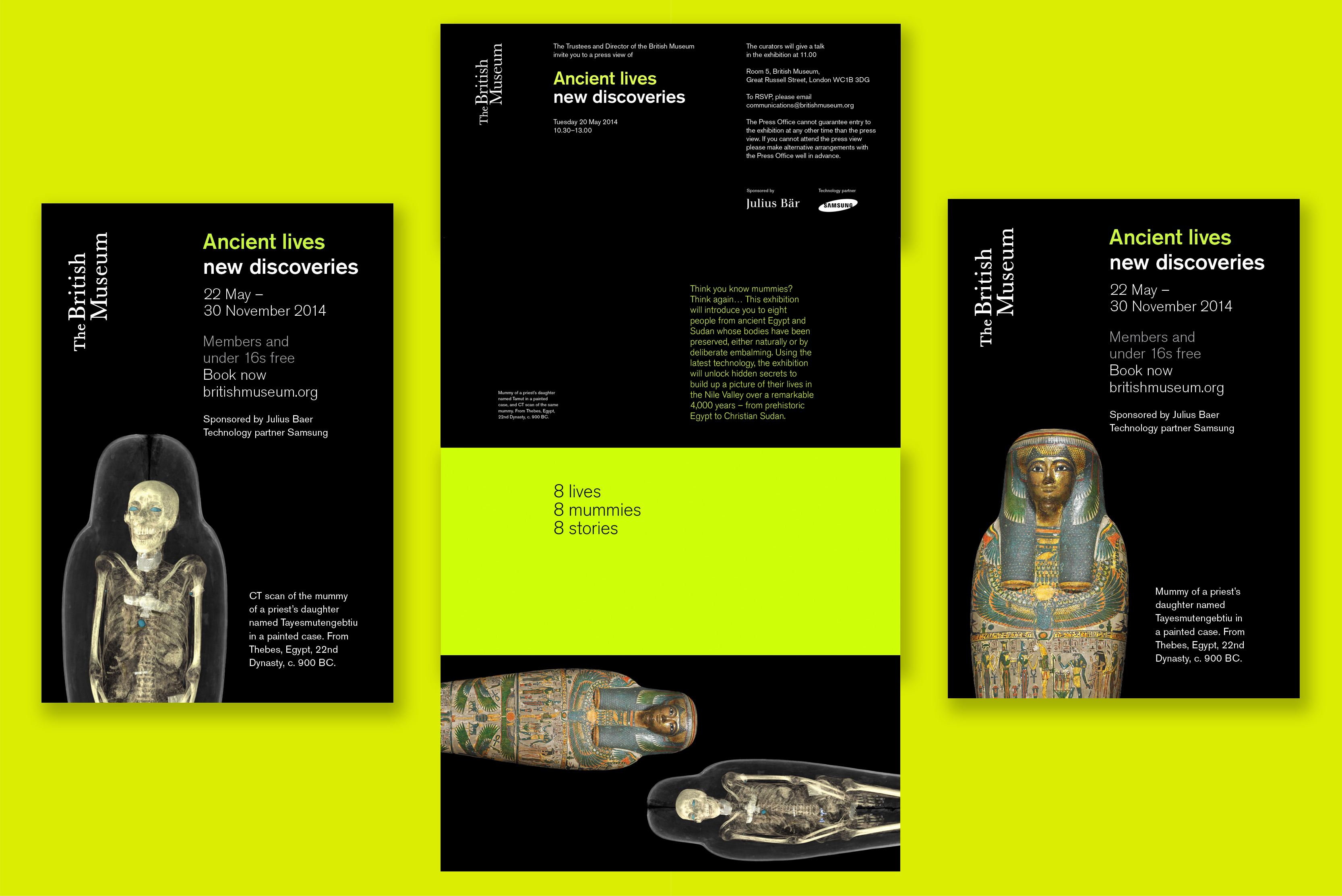 Client

The British Museum

Project
Ancient Lives: New Discoveries

Roles
Art Direction
Campaign Concept
Layout & Typography
Artwork and Production

Collaborators
Ann Lumley (Brand & Design Manager)
Helen Adrados (Senior Designer)
John McConnell (Design Consultant)
BM Marketing Department

Deliverables
Print Collateral (50+)
Poster Designs
Marketing Design
Exhibition Hoardings
Toblerone Design
Reading Room Drum Banners
Design for Press
Way-Finding Systems
London Underground Campaign

Photography
Kabir Singh

Retouching / Post
Kabir Singh


Subject


As one of three In-house Graphic Designers at the British Museum, I was part of a core team responsible for delivering effective Brand Guardianship and cohesive design campaigns for both current and future exhibitions.

The British Museum is the most visited museum in the United Kingdom and one of the most visited cultural institutions worldwide. It holds one of the most valued collections of historical artefacts that attracts a global audience through its doors.

The museums in-house design team are required to communicate the brand and it's campaigns across multiple mediums and platforms using Brand Guidelines and effective long-lasting print, environment and digital assets. Working alongside Communications, Marketing and Exhibitions departments respectively, I concepted, directed and designed all global deliverables for the 'Ancient Lives: New Discoveries' campaign.

'British Museum curators have collaborated with scientists and medical experts to find new ways of studying ancient Egyptian mummies. Ever-developing, non-invasive CT scanning techniques have produced astonishing results, allowing us to understand more clearly how people lived and died in the ancient Nile Valley.'

Presented below are a selection of Campaign deliverables.
Process


A campaign for an exhibition like 'Ancient Lives: New Discoveries' would usually begin with a round table talk between the marketing and design department. The discussion focuses around the strategy for promoting a paid exhibition and generating ticket KPI's.

From a curatorial and exhibition stand-point, the curators would discuss the importance they want to create from the experience and how they envision the exhibition would be. The exhibitions team will then work to help translate this vision alongside Design and Marketing to produce a consistent campaign deliverance.

I was briefed to develop a range of design ideas for the fourth-coming campaign creative. By using the BM's Brand Guidelines, I started playing with layout ideas and the provided image library.

The BM has a collection of 'objects'. This term is used to represent the institutions renowned collection. The objects need to be respected at all times and can never be obstructed graphically. I began designing options using a library containing images of Mummies and their Scans from the Egyptian department. I then began looking at campaign colour options and type hierarchy alongside the Brand and Design Manager.

Result


After the final creative was approved by all department heads, I was tasked with designing all pre-exhibition print and marketing collateral. This included Event programmes, Invites, Posters across different formats, Internal Publications and Digital content.

This was followed by Press ad's, London Underground promotional 4 Sheets, 16 Sheets, Street campaigns and Escalator digital stories. The use of Internal Banners and Large scale signage would continue a cohesive campaign throughout the museum.

All in all, a successful exhibition for the museum, one of the most ground-breaking Ancient Egyptian exhibitions since King Tutankhamun's visit in 1972. A childhood dream of mine to work on a Mummy exhibition!